Archive for June, 2012
by Nikki Moore
Tuesday, 26th June 2012
by Zoe
Monday, 25th June 2012
I have now been to my first Regent Tweet. What an event it was!
26 stores took part, each offering free gifts, experiences or prize draws. QR codes were available at each store to allow you to "check in".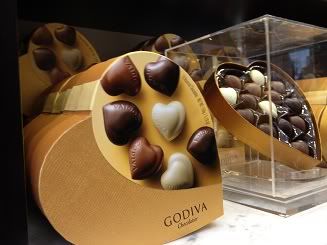 The best gifts were limited to a certain number of tweeters. Jaegar were offering a £50 gift voucher to spend in their store (which I wasn't quick enough to get), Ugg Australia were offering free flip-flops (I got them but not in my size, still my mother-in-law will be happy!) and Godiva chocolate were giving away a gift set of two boxes of chocolates (I headed straight there to make sure I got those).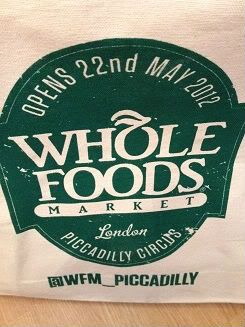 Then many stores were offering free gift bags, which all turned out to be amazing: three types of hand cream from Crabtree and Evelyn, a Liberty print frog, Yuzu shower gel from Molton Brown, a T-shirt in a tin from Superdry, an airform vest top from Uniqlo, cufflinks from Hawes and Curtis, a notebook from Sebago, a keyring from Guess, a tote bag from Tommy Hilfiger, a Moroccan bath set from REN skincare, loads of food and health items from the Wholefood Market and nail varnish from The Organic Pharmacy.
And finally, there were events throughout the day – cupcake making, cocktail making, tapas and a grand finale at the Swarovski crystallised lounge. I was absolutely shattered by the end but I've had an amazing day and I will definitely go back next year!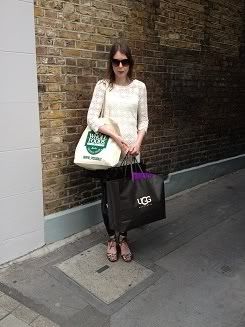 by Zoe
Friday, 22nd June 2012
I'm very excited this year to be invited to participate in Regent Tweet.
The Regent Tweet website describes the event as follows.
"Regent Tweet is an experiential shopping and lifestyle event for women that engages Regent Street's fashion and lifestyle shops, bars and restaurants with online influencers. The itinerary includes lectures at the Apple Store, workshops and many opportunities to receive complimentary products and experiences. The SWAROVSKI CRYSTALLIZED™ Lounge and Concept Store will serve as the Regent Tweet Hub, where you can tweet and blog to your heart's content and relax."
I'm looking forward the starting the day with a free pastry at Tibits, hoping to be one of the lucky girls to get a free pair of sandals at Ugg and taking part in a cupcake masterclass at Whole Foods.
Will it all work out this way on the day? Follow the hash tag #regenttweet or check back on www.girlgeekchic.com on Sunday to find out!
by Nikki Moore
Wednesday, 20th June 2012
New free mobile app 23snaps offers parents a private social network to keep close family and friends updated on their children's lives
Grandparents all over the world will be celebrating the launch of 23snaps, the new free app that enables parents to privately share with a select network of family and friends, every special moment of their child's lives. Featuring real-time updates of photos and footage, the app links families via their iPhone, iPad, or an email alert, so they can instantly see the first smile, step, or word!
23snaps is the brainchild of technology entrepreneur and father-to-be Ivailo Jordanov who says: "We thought there needed to be a quick and easy way to capture your child's special moments, keep them in one place, always with you, and share them with your loved ones in real time. There is no better place to do this than on your phone. There are existing social networks where you are connected with a wide group of people, whereas 23snaps enables you to share these private moments with a small hand-selected group of family and close friends."
Developed by a team of fathers and fathers-to-be the app will keep your family connected, simply and speedily, just add a child to your profile and get snapping! Mark the moments in your children's lives on a virtual timeline and 'tag' them in different entries, whether it's a photo, video, status update or a development milestone. The updates are in real-time, so the second something is added, your chosen few will get an instant notification. And if you don't have an iPhone, no problem! Group members can still receive all posts, photos and updates via email in a daily or weekly package.
But more than just for family members, the app is perfect for parents themselves who are forced through work to spend time away from their family. Whether that be short business trips abroad or more prolonged periods of time such as working in the armed forces, wherever you are, the app allows you to stay connected with your child so you can still enjoy their every precious move.
The app allows families to share 'snapshots' in time. And with the 23rd chromosome deciding your baby's sex – either an X (girl) or a Y (boy), and the combination of the two determining what you're having – '23' 'snaps' was born!
For more details go to www.23snaps.com
by Nikki Moore
Wednesday, 20th June 2012
BRITS travelling abroad this summer should follow the ten commandments of mobile phone usage if they want to avoid a hefty bill or a lost handset when they're overseas.
The new Top Ten Holiday Tips list was compiled from hundreds of suggestions from customers of mobile phone insurance specialists www.insurance2go.co.uk
In recent years a growing number of mobile phone owners, especially those with smartphones, have accumulated huge bills when they have been on holiday, some running into £1000s.
Now www.insurance2Go.co.uk has published its Top Ten Holiday Tips to ensure the annual summer break doesn't end up costing more than the price of the flight and the hotel combined.
Be careful that an App on your smartphone doesn't use the internet to update information and therefore cost you huge data rates.
Use the internet on your phone very sparingly, unless it's over wifi.
Ask your provider to cap your data usage to a level you're confident you'd not go over. So if your phone is stolen you know the bill is capped if you can't block it.
Busy users should consider buying a local Pre-Pay SIM card but make sure it will allow you to call home if need be. Remember the number will be different!
If you're travelling to a less popular destination make sure there is a roaming agreement with that country's providers and that calls are reasonable.
'Free minutes' bundled into your rental are unlikely to cover calls from abroad.
Remember the PIN on your phone protects use of the phone, but if someone took your SIM card out and put it into another phone they can then use this to call.
Be aware of your surroundings when making calls. A top of the range iPhone is just as attractive for people to pinch in London, Cape Town, Moscow or Mumbai.
Block your mobile as soon as you can if you think it has been stolen or lost.
Uploading pictures to Facebook etc can be very expensive. Take care and don't try to make those at home too jealous!
Duncan Spencer, managing director of www.insurance2go.co.uk, said it was vital that people followed the top ten tips to avoid getting caught out abroad. "It's all too easy to forget these simple rules when you're having a relaxing time overseas, but it really is essential otherwise you'll pay a high price on your return. And always check with your network operator if they have any special holiday offers."
"It's also crucial that people stay on their guard from a theft point of view. It's all too easy to forget security when you're having a good time, but that's when your phone is most at risk."And with many people using their phones as cameras these days you could lose treasured memories alongside the handset itself."
Insurance2go.co.uk offers overseas cover on all its policies for a standard 30 days a year including, accidental damage, theft and loss – so no need to worry if your iPhone slips into the pool or gets stolen while you're out to dinner.